11 October – 9 November 2013
dalla Rosa is proud to present David Webb's first solo show at the gallery. Fragmentarium explores personal memories and incidents from Webb's family history, collected in a new body of work that includes paintings and works on paper. What at a glance seems to be abstraction is in fact representational – we see condensed recollections that gather archetypical forms, characterised by the vivid colours of memory.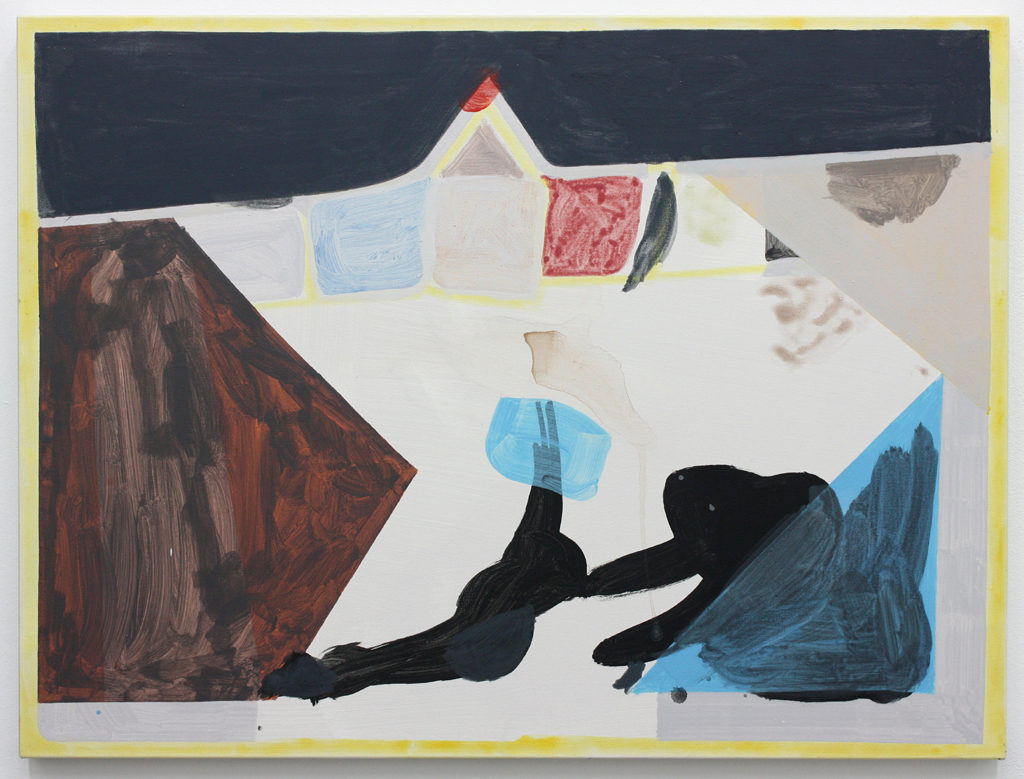 This perceived integration of abstract and figurative language is a distinctive trait of Webb's practice, as painter Eleanor Moreton writes: 'Even at their darkest Webb's paintings have lightness and luminosity. Working and erasing until an essence of the original image or idea is all that remains, it is often at this point that the original motif is no longer readable. There is no question that they can be a purely aesthetic experience and can meet their audience on the shared ground of beauty. Nevertheless, they have a narrative thread.'
Webb looks at Sienese Renaissance painters such as Sassetta and the Lorenzetti brothers for solidity and volume, and Matisse for fluidity of colour and line. The formal construction of each composition gives equal importance to the centre and the periphery of the canvas. Location is crucial. Light, colours and contrast of places such as Canada, Mexico, Cyprus and Britain inform the tone of each painting.
'The work included in Fragmentarium continues themes relating to ancestral stories of travel, specifically a single journey taken by my Grandmother and Mother in 1955, when they returned permanently to the UK from Tanzania. The accounts of their migration were often incomplete and imprecise, and I feel the relevance for me was not the emphatic recounting of history, but rather the sentiment that surrounded what happened. I aim to find this within my work; often obliquely, sometimes using their letters, photographs and objects from the time to develop and pare down shapes, and re-imagine colour. The imagery is typically and purposely evasive and the figure/motif fluctuates within a space between flat abstraction and a more traditional representation of the landscape, seascape or interior.
In addition are paintings relating to more personal experiences of place and relocation; a sense of shifting, setting down, and collecting in an emotional, perceptive, sense. For example, my immediate surroundings – Deptford Creek's sparkly grey mud and detritus; still life objects, or the landscape around Lemba in Cyprus – so important in my education and development.'
(David Webb, September 2013)
ABOUT THE ARTIST
After studying Fine Art in Aberystwyth, David Webb (born 1973) obtained an MA in Painting at Canterbury Christ Church University College and a postgraduate diploma at the Cyprus College of Art (Lemba). He was also awarded residencies at The MacDowell Colony (Peterborough, New Hampshire), Yaddo, (New York), and a fellowship at Vermont Studio Center. Now based in London, Webb has exhibited extensively in Britain and abroad, notably: solo shows at Transition and APT Galleries (London), and group exhibitions at the Siena Art Institute (Italy), Flowers East (London), The Painting Center (New York City). Webb has work in private and corporate collections in Australia, Britain and the USA, and in the collections of the Siena Art Institute and the National Library of Wales.
dalla Rosa Gallery
121 Clerkenwell Road
London EC1R 5BY
hello@dallarosagallery.com